As a family run business for more than 50 years, our team is a big part of our success.
Gunter Bros. Meat Co. is a third generation family-owned and operated business. Run by brothers Dennis and Harry Gunter, it was started by their grandfather.
The story starts in 1932, when their grandfather, Harry Sr., began raising prize winning turkeys and selling meat throughout the Comox Valley, from his truck, and to various butcher shops. He raised turkeys, sheep, and cattle on his farm in Grantham. His sons, Bob and John, worked on the farm, learning the skills of butchering and processing. Harry Sr. and his son, Bob, continued this work through the 60's.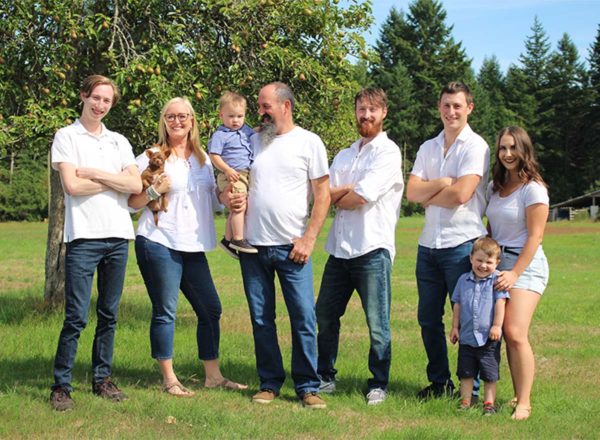 In 1965, a retail meat store on Mission Hill was opened to sell Gunter's Meats in town. Once Harry Sr. had retired from this work, his son, Bob, and wife, Beverley, built a new facility on Ledingham Road, which opened in November 1979. This facility is the original structure, which has grown into what people see today, when they come to Gunter Bros. Meat Co.
Bob and Beverley's sons, Dennis and Harry, learned the trades of the meat business while growing up on the neighbouring farm. Once they learned the business, they bought it from their parents in 1987.
Since the brothers bought the business, it has steadily grown into a full-scale processing facility that offers: custom processing, in house curing & smoking, sausage making, and a retail storefront. The storefront offers everything from their signature pepperoni, sausages, and bacon to meats packs, and
retail cuts.
In 2007, the company became a Class A Government Inspected Facility, and went on to build one of the first meat composting
facilities in British Columbia.
Now, many of Dennis and Harrys' children are working at the company, which makes them the fourth generation to participate in the business.
Come visit our facilities, and see what we have to offer!
Our Customers
Getting to know our community is the best part of our business! We have relationships with the farmers down the road, have seen our customers children grow up, and start families of their own.
We support local restaurants and grocers, and love to help local community groups with their fundraising. At Gunter Bros., we pride ourselves on serving the Comox Valley for multiple generations, and thank our loyal customers who have been with us for many parts of the journey.